Better audio work habits: How a wacom tablet can help reduce the risk of RSI.
June 2018 - Repetitive strain injury can result from spending long periods of time on a computer. If you don't experience it yet you may well in the future; a Wacom tablet helped me manage my audio workflow and health better than a mouse alone.
This post was featured on asoundeffect.com

I gave a lecture last year as alumni about freelancing in the creative audio and media industries. One of my slides showed a picture of a Wacom tablet. I'd expected some hands to show or a few head nods when I asked if anyone knew what it was... to my surprise no one seemed to know. Being involved with animators, motion designers and creative studios, I've seen Wacom's products all over desktops of visual creatives. However there is no such thing for the audio discipline, after all, we are always being forgotten about right?
When I think of Wacom's brand it does cater very heavily towards visual designers. Have a read at some marketing for their new 3D Pen:
'For creative professionals working in game design, animation, VFX, VR and AR, 2D and 3D art and industrial design'.
Where's the audio mention?! All computer users and professions could benefit from cutting down on mouse time. After all, holding a pen is a far more natural way to interact with a computer.
I remember trying a Wacom years ago when my graphic design buddy Lee had one and still does. I found it a bit strange. It didn't feel that natural to use at first but I would urge anyone to hold out past this stage, it doesn't take long. The technology has further improved and the Intros Pro and Pro Pen 2 are excellent. I had preconceptions that only artists and graphics professionals used these,
'I wouldn't use this for audio!'
With Wacom's marketing, it's not hard to see why I thought this. I hope Wacom can challenge and amend this assumption about what industries typically use their products.
I started suffering RSI quite a lot when I got busier in the studio. I was working on audio projects and building up my client base, saying yes to every job. I realised my Apple mouse wasn't doing my wrist any favours. I looked into ergonomic mice and ordered two different ones to try. I found that one of them was good but the scroll wheel position wasn't working for me. If you are using only a mouse then the scroll wheel is important, not so much with a Wacom as I will later explain. I sent both mice back in the end and looked for other solutions.
I remember watching
Martin Stimming
showing his audio workflow using a Wacom Cintiq 13" with Cubase. I had a lot of questions, how well would it work with the software I used? I researched forums online but there wasn't a huge amount of information or videos on using these with audio workflows. This inspired me to try one out, if I didn't like it then my plan was to return it and hope I'd get a refund. I didn't need the Cintiq model where you draw directly on the screen so I went for the cheaper, Intuos Pro Medium. This meant I could use my existing monitor screen and I felt having it setup flat on a desk might be better for ergonomics and posture.
Configuration

It took me a bit of time to get used to using a pen, I'm left-handed which is easy to set up. I changed the size of the tablet working area to be smaller. In reducing the physical distance the pen travels, means it's easier to move the mouse cursor across a 34" ultrawide monitor. Wacom's software also allows you to map key functions used in any application to the pen and tablet's express keys (buttons). Most audio applications aren't very customisable (except Reaper) but any application can have its own preferences for both pen and tablet. You can map any application's keyboard shortcuts to be triggered. You can pretty much do anything with it, it's very flexible. Below you can see I've setup one of the pen buttons to trigger
opt
+
cmd
when in Ableton.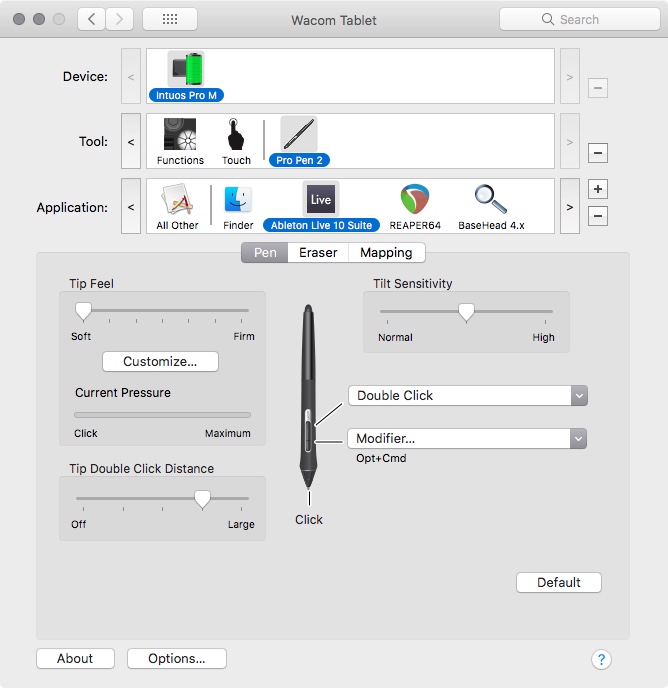 I found actually moving the mouse cursor around with accuracy using a pen very satisfying and quick to grasp. I think I just got it this time unlike years ago. The two buttons on the pen (which can do what you like) took a little longer for them to feel natural in my hand. I didn't use them at all for the first month or so but then I realised it was worth learning and using them. This made my workflow much easier and quicker.
Key differences - mouse to pen
NAVIGATION
With no scroll wheel on a pen, you have to find an alternative method for quickly navigating and moving around your software's screen estate. You'll find most DAWs have a '
hand tool
' where you can drag the screen about rather than scroll vertically or horizontally. In Ableton on a mac, you access this via the key commands
opt
+
cmd
& drag the mouse. I use a button on my pen that triggers both commands, I drag the pen around on the tablet to move the screen. Logic Pro X uses
ctrl
+
shift
& drag pen etc. I have this setup the same in Reaper to hold the same pen button and drag to move around. I really like this way of working so I don't miss the scroll wheel method at all. The additional advantage is you can make most, if not all software, work the same way using the Wacom pen.
DOUBLE CLICK
You can double click with a pen as you would on a mouse, just double tap your pen on the tablet surface. Sometimes however even customising the response speed etc, it doesn't always register. This can be frustrating for the obsessive but fear not. You can either set up one of the pen's buttons to double click (with a single click) or you can assign an express key (button on the tablet) to do this. Problem solved!
ZOOMING
Again with there being no scroll wheel on a pen you can either use the touch ring on the tablet or just use your DAWs keyboard zoom shortcuts. I find this is fine. Most DAWs give you a good amount of zoom shortcuts.
EXPRESS KEYS
You can assign any keyboard shortcut in your DAW to one of these buttons. If there is something you use a lot and would rather move it to a button on the tablet, rather than use your keyboard you can. This is useful if you don't like the position of the keyboard shortcuts and can't re-assign them to different keys etc. In software like Reaper, you can map anything anywhere but a lot of DAWs don't have this luxury.
Conclusion

Once I'd got a fluid workflow together with the Wacom, I stopped using my Apple mouse because I loved using a pen so much. Even then, doing a solid 8 hours of work using the pen will likely cause some ache and RSI. It's a huge improvement for reducing RSI using the Wacom, but it doesn't mean only using this for long periods of time will totally prevent RSI. Using any device for that long will cause fatigue, therefore you should build in 5-minute breaks per hour worked.
I find now it's best to balance workload across both of my hands. I use the Wacom for any sound design/audio post using Reaper. For any music I tend to use Ableton, normally swapping between both the Wacom and mouse. For general computer use emails, file management etc, I use the mouse. I finally replaced my Apple mouse with
Contour's Unimouse
.
This is a comfortable mouse that has customisable software like the Wacom. Its flexible design allows you to change the steepness of the angle of where your hand and thumb rest, greatly reducing RSI. Using both devices means I am spreading the workload and fatigue across both hands and wrists, rather than only one. It's a huge improvement to my workflow and health, I hope it can do the same for you.