Better audio work habits: How a sit & standing desk can reduce sedentary studio life.
Feb 2021 - Back pain can result from spending long periods of time working sat down. If you don't experience it yet you may well in the future; a sit & stand desk helped me manage my audio workflow and health better than a chair alone.
This post was featured on asoundeffect.com
In 2018
I looked into ways of breaking free
of the computer mouse to help offset increasing wrist RSI pain, as my audio production business got busier. I'm not the first person to do this obviously, Wacom tablets have been around for a long time but there wasn't a great deal of fresh and current information out there for audio professionals using them.
This article is an extension of this, a kind of part two in audio studio production ergonomics. The key focus this time is more around reducing lower back pain and fatigue from sitting down for too long, over the course of a working week. Of course, there remains a slew of techniques to help you keep moving during the day, including a good adjustable ergonomic chair and regularly walking about. However, most of these don't allow a near-instant release from changing up your body posture whilst still focused on the current task.
During the end of the unforgettable 2020, I started to think about changing up my current studio desk and doing some general studio improvements. My desk wasn't fancy, just a solid wood dining table with a black theatre cloth covering it. After looking at all the 'professional' audio studio desks, I wasn't convinced until I came across the standing desk concept. I hope my experience will inform others who might get twitchy about the thought of too much chair time. You might have heard the expression "
working on my studio tan
" but I'd had enough of working on my "studio posture". Time to switch it up!
Research
I probably spent a solid week researching a studio purchase that isn't the most exciting item on the wishlist; it's just furniture at the end of the day. Nevertheless, furniture you'll often be sat working on top of 8 hours or more, most weekdays. Reddit proved a great information source and lots of decisions were based on information in the standing desk subreddits. Even just doing a general search will give you plenty of inspiration. Youtube also has some great content to visually see most desks in action with further reviews and thoughts. All views are my own and I am not affiliated or paid by any desk manufacturer.
Enter the mysterious world of the motorised sit/standing desk. After an hour or two of working sat down, you change the height of the desk quickly to enable you to be able to stand. This provides a well-needed stretch from a sedentary position. Going to make a coffee for example does achieve a small part of this change but the standing desk allows that complete body change; whilst still being focussed on the task, almost undisturbed. Being a freelancer often means balancing multiple jobs and clients and building in breaks is crucial but sometimes leaving the desk for them isn't always possible all the time.
What are key factors when choosing a standing desk for an audio application?
Weight limit the desk can lift (check if weight includes the desktop itself)

Stabilisation features and desk design

Memory function to automatically store height settings

Frame only desk or complete unit with a desktop included?

Cable management (underneath the desktop)

Cable management (from your computer? you'll need longer cables)

Does your space have enough room height for the desk at maximum height with your equipment sat on top?

General customer reviews, delivery options and country availability

Based on my requirements I was looking at the following manufacturers of desks being U.K based:
HADO (Height Adjustable Desks Online)

Uplift (U.S.A only unless to you want to pay large shipping fees)
Factors

The weight limit the desk can lift is a big consideration, and possibly the most important if you plan on having a lot of equipment on top, including active monitor speakers, a large monitor screen and any hardware. I roughly worked out what I thought I needed and then added about 20% more just in case. Honestly, I'm not even sure what the current total weight is now but I'd say it is probably between 125-140kg with all cabling. My desk is rated to lift 150kg across 3 legs, however some desks are not as strong and you don't want to be over or too close to the limit. I am tall at 6' 4", so is worth checking maximum height too.
I decided to go with an L shaped desk in the end because these are more stable at height than a standard desk. As they have two desks attached at a 90-degree angle, this helps to minimize the potential for wobble on more than one axis of movement. The other advantage is just more space real estate which makes it more future proof for expansion. Leg braces can also offer more rigid support on desks that feature this, which are very few models. Even the design of the leg and whether the foot end is wider than at the desk attachment end, can supposedly make a small difference to stability. Go for a control system on your desk that can store heights as digital presets. Then you can return to the exact same sitting and standing position every time.
You can buy a frame only desk and source your own wood for it if you like. I loved the idea of this but it is extra time to source. You'll have to manually pre-drill all of the screw mounting holes into the frame which I wasn't a fan of. I wanted something I know will fit first time since just sorting all of the wiring and cable management out was going to be a big enough task.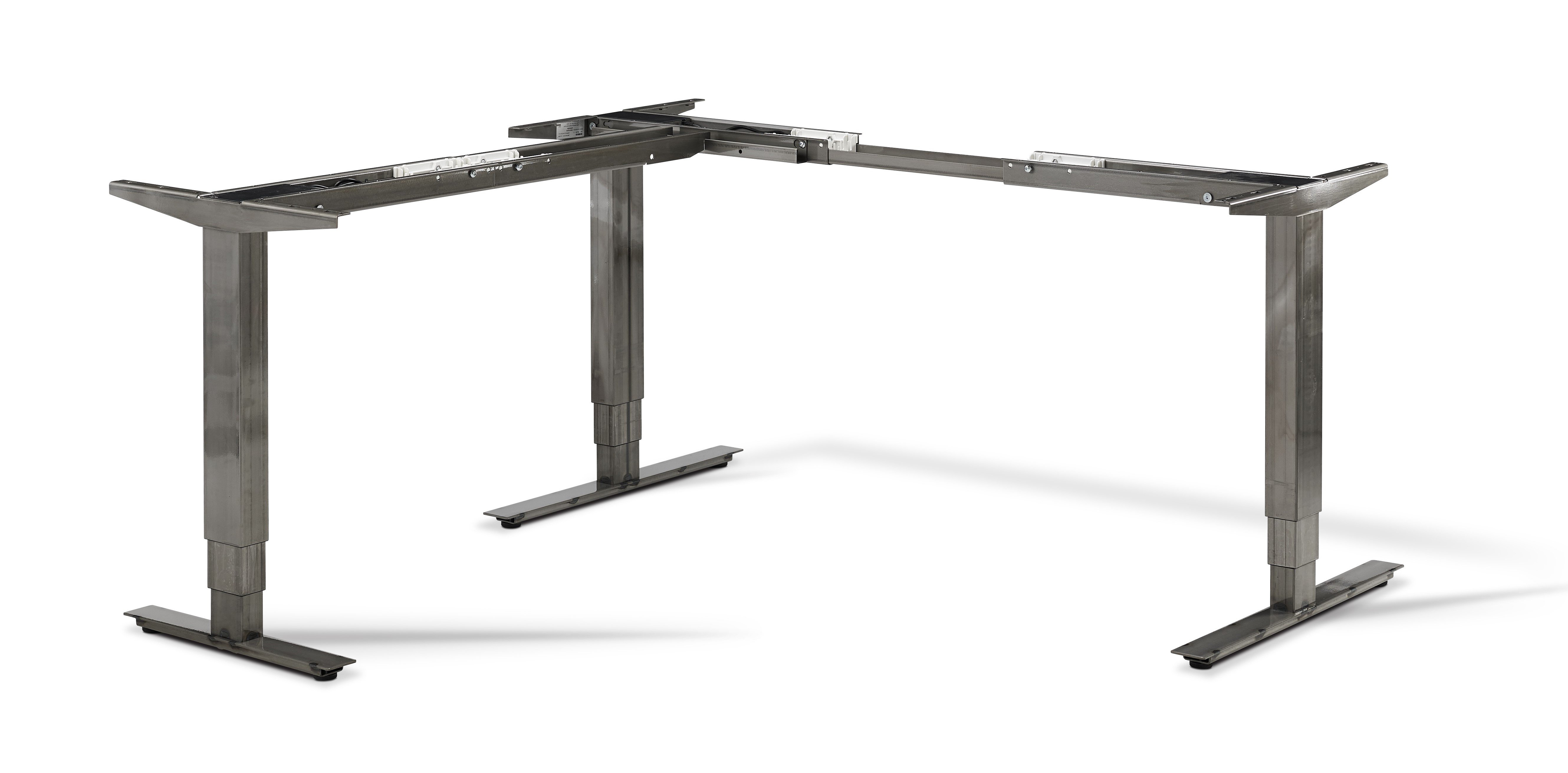 The Jarvis L shaped desk I chose uses a natural Bamboo desktop. Jarvis are a certified B Corp meaning they are mindful and ensure responsible practices, something that is admirable in today's environmentally conscious world. One of my favourite wood finishes is from Oako, their 'Golden Crust' solid oak top is stunning but they don't offer L shaped desks.
The larger and more powerful desks come with a larger price tag to reflect the features and build quality. It is worth checking the parts cover and guarantee, especially on the items that do the majority of the work like leg motors. The Jarvis L shaped has a very good 10-year warranty on all desk frame components, mechanical parts, motors, and electrical components.
Accessorize
Most desks can be ordered with additional accessories so I highly recommend a cable management kit. This helps to route cables under the back of a desk and have room to drop in 4 or 6 gang power sockets.
In an ideal world you'd route signal and power cables on separated routes so they don't cross and risk inference. However, I'd never suffered any noticeable noise issues from mixing both together on my system and power supply. I rack mounted a single 1u 19" unit underneath holding a Furman power conditioner. This provides cleaner incoming AC power being filtered, stabilized and surge-protected with 10x IEC power cable outputs. The main benefit is a reduction in trailing power cables from desk to floor. I rewired a 6-way power extension to use one of the IEC output sockets to provide more regular power sockets underneath.
Two further accessories were an additional slide-out shelf, sitting underneath the main listening position and an anti-fatigue standing mat. The shelf was created using runner brackets from Amazon and a suitable size of wood (designed for shelving) from my local DIY store. The standing mat is a Muvmat by Aeris, it is designed to be uneven and acts like a forest floor. The surface is oddly a lot more comfortable than standing on flat carpet for the same amount of time.
Preparation & build

Many of the desks have reviews that range quite dramatically so sometimes it's hard to work out whether customers are being a little unreasonable or whether they really have been badly let down by a company. I checked reviews for the desk I was interested in but I didn't get too obsessed when I was reading about missing parts and other bad experiences. I just went for it and it was fine. Things go wrong sometimes, that's just life.
Don't forget that you'll likely need longer versions of the cables you have coming out of the back of your computer, if you plan on keeping the computer on the floor. For example, HDMI for monitor screen, USB cables etc. If you have a smaller PC or Mac that can sit on the desktop or an iMac for example then this might not apply here. It is however something to consider since you don't want to move your desk to standing height and pull and damage cables that don't have enough spare slack. Use a cable management sleeve or wrap to create a 'loom' to keep these cables neat, as one bigger one.
Once you've chosen your desk and it arrives, it's a good idea to unpack and check everything is there and not damaged. I didn't have the space to unpack everything straight away but I did check the wood desktop(s) for any damage in transit. Allow plenty of time for the build to avoid mistakes.
You'll build your desk upside down on the floor, in the same space as where you intend to use it. U shaped cable tacks can be hammered into the wood to act as anchor points to hold cable runs in place. Check any nails or screws won't pass through the whole of the wood desktop however! Cable ties help with cable management and your desk might come with some but it's good to have extra. Once built upside down and wired up as best you can, you might need a hand in walking up the desk from the floor. Then it's time to setup everything and enjoy the freedom to stand up and continue working when you please.
Conclusion
A standing desk is not a substitute for exercise, and standing for more than half a day isn't that good for you. You'll be surprised how quickly you'll tire of standing up, it is a lot faster than you think. I normally use the standing function 2 to 3 times during the day. That might not seem a lot to justify the effort. After a few months of use for me, it is worth that peace of mind. Being able to stretch when I can feel and become aware that my body is craving a posture change but I want to stay on task.
Keep in mind the accuracy of your monitor speakers will change when the desk is at height. I don't do any critical mixing stood up since my speakers are calibrated with Sonarworks that are only effective in the sit position. I could calibrate a speaker profile for a standing position but I'm happy to do 'none critical' mix work in this way. If you use huge amounts of hardware racks or a massive analogue desk then a standing desk probably won't be suitable. For the modern audio freelancer or small scale studio I think they work well.
Better audio work habits: How a wacom tablet can help reduce the risk of RSI.
June 2018 - Repetitive strain injury can result from spending long periods of time on a computer. If you don't experience it yet you may well in the future; a Wacom tablet helped me manage my audio workflow and health better than a mouse alone.
This post was featured on asoundeffect.com

I gave a lecture last year as alumni about freelancing in the creative audio and media industries. One of my slides showed a picture of a Wacom tablet. I'd expected some hands to show or a few head nods when I asked if anyone knew what it was... to my surprise no one seemed to know. Being involved with animators, motion designers and creative studios, I've seen Wacom's products all over desktops of visual creatives. However there is no such thing for the audio discipline, after all, we are always being forgotten about right?
When I think of Wacom's brand it does cater very heavily towards visual designers. Have a read at some marketing for their new 3D Pen:
'For creative professionals working in game design, animation, VFX, VR and AR, 2D and 3D art and industrial design'.
Where's the audio mention?! All computer users and professions could benefit from cutting down on mouse time. After all, holding a pen is a far more natural way to interact with a computer.
I remember trying a Wacom years ago when my graphic design buddy Lee had one and still does. I found it a bit strange. It didn't feel that natural to use at first but I would urge anyone to hold out past this stage, it doesn't take long. The technology has further improved and the Intros Pro and Pro Pen 2 are excellent. I had preconceptions that only artists and graphics professionals used these,
'I wouldn't use this for audio!'
With Wacom's marketing, it's not hard to see why I thought this. I hope Wacom can challenge and amend this assumption about what industries typically use their products.
I started suffering RSI quite a lot when I got busier in the studio. I was working on audio projects and building up my client base, saying yes to every job. I realised my Apple mouse wasn't doing my wrist any favours. I looked into ergonomic mice and ordered two different ones to try. I found that one of them was good but the scroll wheel position wasn't working for me. If you are using only a mouse then the scroll wheel is important, not so much with a Wacom as I will later explain. I sent both mice back in the end and looked for other solutions.
I remember watching
Martin Stimming
showing his audio workflow using a Wacom Cintiq 13" with Cubase. I had a lot of questions, how well would it work with the software I used? I researched forums online but there wasn't a huge amount of information or videos on using these with audio workflows. This inspired me to try one out, if I didn't like it then my plan was to return it and hope I'd get a refund. I didn't need the Cintiq model where you draw directly on the screen so I went for the cheaper, Intuos Pro Medium. This meant I could use my existing monitor screen and I felt having it setup flat on a desk might be better for ergonomics and posture.
Configuration

It took me a bit of time to get used to using a pen, I'm left-handed which is easy to set up. I changed the size of the tablet working area to be smaller. In reducing the physical distance the pen travels, means it's easier to move the mouse cursor across a 34" ultrawide monitor. Wacom's software also allows you to map key functions used in any application to the pen and tablet's express keys (buttons). Most audio applications aren't very customisable (except Reaper) but any application can have its own preferences for both pen and tablet. You can map any application's keyboard shortcuts to be triggered. You can pretty much do anything with it, it's very flexible. Below you can see I've setup one of the pen buttons to trigger
opt
+
cmd
when in Ableton.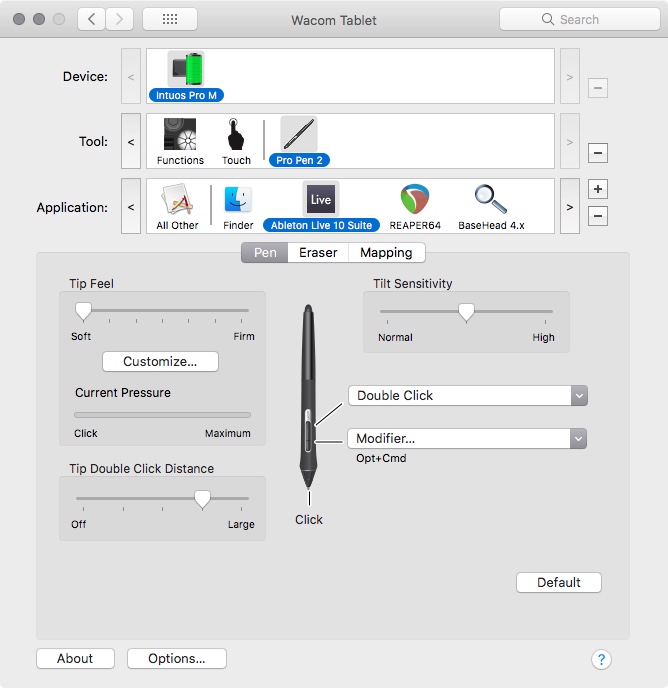 I found actually moving the mouse cursor around with accuracy using a pen very satisfying and quick to grasp. I think I just got it this time unlike years ago. The two buttons on the pen (which can do what you like) took a little longer for them to feel natural in my hand. I didn't use them at all for the first month or so but then I realised it was worth learning and using them. This made my workflow much easier and quicker.
Key differences - mouse to pen
NAVIGATION
With no scroll wheel on a pen, you have to find an alternative method for quickly navigating and moving around your software's screen estate. You'll find most DAWs have a '
hand tool
' where you can drag the screen about rather than scroll vertically or horizontally. In Ableton on a mac, you access this via the key commands
opt
+
cmd
& drag the mouse. I use a button on my pen that triggers both commands, I drag the pen around on the tablet to move the screen. Logic Pro X uses
ctrl
+
shift
& drag pen etc. I have this setup the same in Reaper to hold the same pen button and drag to move around. I really like this way of working so I don't miss the scroll wheel method at all. The additional advantage is you can make most, if not all software, work the same way using the Wacom pen.
DOUBLE CLICK
You can double click with a pen as you would on a mouse, just double tap your pen on the tablet surface. Sometimes however even customising the response speed etc, it doesn't always register. This can be frustrating for the obsessive but fear not. You can either set up one of the pen's buttons to double click (with a single click) or you can assign an express key (button on the tablet) to do this. Problem solved!
ZOOMING
Again with there being no scroll wheel on a pen you can either use the touch ring on the tablet or just use your DAWs keyboard zoom shortcuts. I find this is fine. Most DAWs give you a good amount of zoom shortcuts.
EXPRESS KEYS
You can assign any keyboard shortcut in your DAW to one of these buttons. If there is something you use a lot and would rather move it to a button on the tablet, rather than use your keyboard you can. This is useful if you don't like the position of the keyboard shortcuts and can't re-assign them to different keys etc. In software like Reaper, you can map anything anywhere but a lot of DAWs don't have this luxury.
Conclusion

Once I'd got a fluid workflow together with the Wacom, I stopped using my Apple mouse because I loved using a pen so much. Even then, doing a solid 8 hours of work using the pen will likely cause some ache and RSI. It's a huge improvement for reducing RSI using the Wacom, but it doesn't mean only using this for long periods of time will totally prevent RSI. Using any device for that long will cause fatigue, therefore you should build in 5-minute breaks per hour worked.
I find now it's best to balance workload across both of my hands. I use the Wacom for any sound design/audio post using Reaper. For any music I tend to use Ableton, normally swapping between both the Wacom and mouse. For general computer use emails, file management etc, I use the mouse. I finally replaced my Apple mouse with
Contour's Unimouse
.
This is a comfortable mouse that has customisable software like the Wacom. Its flexible design allows you to change the steepness of the angle of where your hand and thumb rest, greatly reducing RSI. Using both devices means I am spreading the workload and fatigue across both hands and wrists, rather than only one. It's a huge improvement to my workflow and health, I hope it can do the same for you.